Give your employees the tools they need to stay invested.
Invested employees are alert employees. Build culture by tackling challenges before they appear. Acknowledging failure isn't the same as accepting it.
Simulations are a safe yet realistic way of reducing risk. We've made them easily accessible for your entire staff, enabling them to stay updated at all times.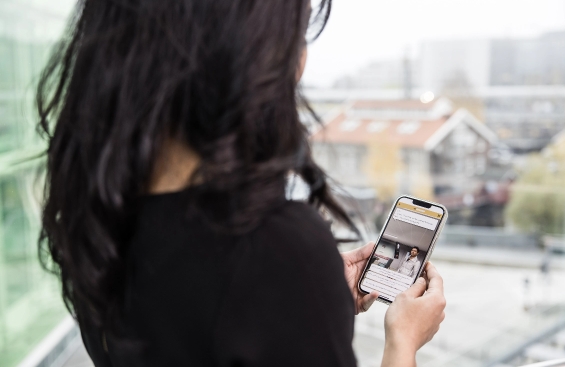 Every employee has access
No complicated setup is required – just start learning. Every single employee gets their own personal user experience on their phone to be explored at any given moment. It's easily manageable, accessible and scalable at the same time.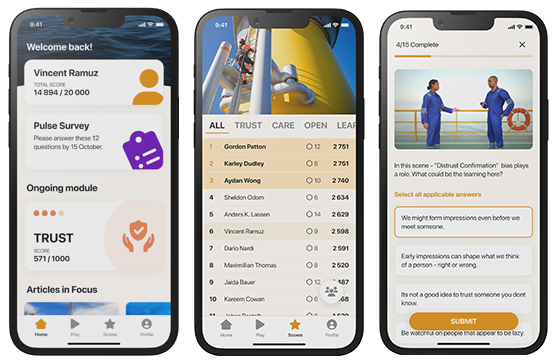 One app – endless opportunities
Your employees can work through real-life simulations based on their actual day-to-day activities. They get the opportunity to reflect on their virtual actions and their outcomes. It's engaging, fun and educational all at once.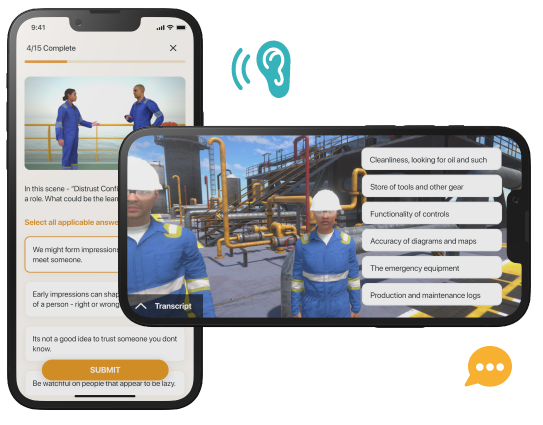 The human element
80% of accidents occur due to human failure. Most of them could have been avoided by speaking up and addressing the issue beforehand. Preparing for a particular situation drastically reduces the risk of an undesirable outcome.
Don't just take our word for it
Listen to those who are already safer with SAYFR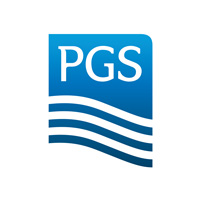 The outcome of working with SAYFR was a 'sea change' for PGS Operations and a metamorphosis from a lagging and detail oriented operational culture to a leading, and risk-inquisitive one.
Paul Courtenay, Vice President – PGS Operations aquisition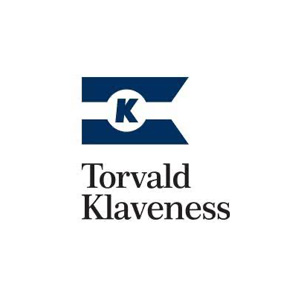 We know that we all make mistakes, both on board and ashore. As an organization we accept that as a fact, and believe that being open about our mistakes is a sign of strength. Our failure would be if we did not learn, and improve, from our mistakes.
Lasse Kristoffersen, President and CEO – Torvald Klaveness
Working with SAYFR provided access to a pool of cross industry expertise, experience and insights into safety culture and accident dynamics, also from a technical, as well as a qualitative point of view.
Daria Krivonos, Head of Enterprise Risk Management – A.P Møller – Maersk